Acer Mixed Reality Headset: Everything You Need to Know
Mixed reality is a burgeoning technology. When it comes to computer-assisted realities, VR has been dominating the space. Virtual realities create entire new virtual worlds that can be explored. Premium VR headsets have generally been well received and have become increasingly affordable and accessible. Mobile VR has also progressed nicely, with a number of companies releasing very good systems. At the same time, augmented reality has seen some successes too; games like Pokémon Go have been hugely successful. They overlay virtual elements onto the physical world. MR, mixed reality, aims to combine the two. It imposes digital assets onto the real world, but the two can fully interact and affect each other. It's this technology that Microsoft's Windows Mixed Reality platform hopes to tap into.
Microsoft has already dabbled in the AR space with their HoloLens device. Although the HoloLens is not ready for consumer-level purchase, it demonstrates how serious the company is about augmented and mixed reality. Meanwhile, the Mixed Reality platform is available for developers such as HP, Samsung, Dell, and Acer. The latter is the focus of this article; they released a Mixed Reality device back in August 2017. In this article, we explore everything you need to know about the Acer Mixed Reality headset, from how it works and how much it costs, to how it compares to other headsets and what you can use it for.
What is the Acer Mixed Reality Headset?
First things first; the name of this headset is a little misleading. This is no fault of Acer's, more so that of Microsoft. The term Mixed Reality suggests that elements of both VR and AR should be available. In reality, this is mostly a VR headset. Microsoft uses the umbrella term Mixed Reality for anything that falls on the VR/AR spectrum. Despite the front-facing cameras on the Acer headset, this device doesn't use pass-through video for an AR experience. With the semantics of what this headset isn't, let's take a look at what it is.
The light-blue design of the Acer AH101 (as it's formally known) very much follows the trend of virtual reality headsets for the PC, such as the Oculus Rift and HTC Vive. It's a head-mounted display with an LED screen on which two lenses focus, creating a stereoscopic 3D image. It comes paired with two controllers which also follow the established convention of VR PC controllers. It has a variety of cameras, sensors, and connectors which allow it to be used with a moderately powerful PC.
How the Acer Mixed Reality Headset Works
Mixed Reality headsets distinguish themselves from other premium headsets in one major way; they don't use external sensors. The Rift and the Vive both use two or three satellite sensors that track the user's movements and position. The Acer, on the other hand, uses the on-board cameras to orient the user in the virtual space. These cameras give 6 degrees of freedom (6DoF) tracking, meaning head, hand, and directional movements are tracked. The lack of external devices to power the experience means that it's quite easy to connect the headset; only one HDMI cable and one USB cable are required.
The controllers that come bundled with the headset have a ring of sensors on each. The cameras on the headset also track the controllers, which act as your virtual 'hands' when interacting with the VR world. They're similar to those that are paired with the HTC Vive and Oculus Rift systems. In our Acer Mixed Reality Headset review, we were slightly disappointed to find the quality lacking of both the controllers and the headset. Flimsy plastic is abundant, and the tracking wasn't always as flawless as we'd hoped.
Acer Mixed Reality Headset Requirements
Another aspect in which Mixed Reality headsets distinguish themselves from other high-end VR devices is their reasonably modest PC requirements. We've often spoken about how demanding and expensive the Oculus Rift and HTC Vive can be for most PC users. They rely on having the very best graphics cards, which certainly aren't cheap. The Acer Mixed Reality headset doesn't require a behemoth of a PC to run it. However, to run the top games, you'll still need a pretty beefy graphics card. We've outlined the key specs, below:
| | |
| --- | --- |
| Operating System | Windows 10 with Fall Creators Update |
| Processor | At least an Intel Core i5 4590 or AMD Ryzen 5 1400 3.4Ghz. For the base experience, Intel Core i5 7200U (7th generation mobile). |
| RAM | At least 8GB of DDR3 |
| Storage | At least 10GB of free space. |
| GPU | NVIDIA GTX 1060 or AMD RX 470/570. For the base experience, Integrated Intel HD Graphics 620, NVIDIA MX150, or AMD Radeon RX 460/560. |
These core specs aren't overly ridiculous, and with the top-end ones, you can expect to achieve a framerate of around 90fps, which is quite impressive. The lower-end graphics cards will product around 60fps.
How Much Does the Acer Mixed Reality Headset Cost?
The headset launched at a price of £399/$399, but the US version has dropped down to just $349 on the Acer store. For this, you receive the headset as well as two motion controllers. The price range puts it in a similar class to devices such as the Oculus Rift and Lenovo Mirage Solo. All three of the headsets have their unique selling points, but it's the Rift that stands out as the best value for money. Of course, depending on the PC you currently own, you may have to drop a few hundred pounds/dollars on improving your graphics card. Another close competitor is the PlayStation VR; the headset alone is cheaper, although you also have to bear in mind the cost of the console.
Acer Mixed Reality Headset vs Oculus Rift
The Oculus Rift is the main competitor to the Acer Mixed Reality headset in terms of price and performance. There are pros and cons of each device; the Acer model is easy to set up, doesn't require any peripherals other than controllers, and can run on a fairly modest PC. By comparison, the Rift takes a lot of configuring and extra sensors to get going and has demanding hardware requirements. Despite this, the Rift feels like a more premium headset in its design and build. The controllers are fantastic, and the room-scale tracking is a joy to use. The Acer feels plastic and somewhat cheap by comparison, despite its good looks. Controller tracking is sometimes patchy, and the range of games isn't quite up to scratch. Overall, the Oculus Rift remains the preferred choice, particularly considering the two cost about the same.
Acer Mixed Reality Headset vs PlayStation VR
Another device that's similarly positioned to the Acer headset is the PlayStation VR. Both look fantastic, although the PSVR's superior build quality gives it the edge there. When we reviewed the PSVR, we found it quite a task to get it set up and calibrated; there are a lot of cables and external connections. We also had issue with the controllers and tracking camera, both of which felt like they came from a previous era (because they did). Tracking wasn't always great either, but this is also true of the Acer headset. The front-facing cameras sometimes lose the controllers. Ultimately, it's the fantastic selection of games and overall build quality that makes the PlayStation VR the best choice for gamers. It's also considerably cheaper, provided you already own a PS4 console; you can pick up a bundle for a couple of hundred pounds/dollars, compared to £399/$349.
Acer Mixed Reality Headset vs Lenovo Mirage Solo
These two headsets are plagued by similar issues. Both devices present innovative technologies, easy setup, and comparable prices, but are let down by a lack of quality content that makes use of their features. The Lenovo Mirage Solo uses front-facing cameras to achieve 6DoF tracking, as does the Acer. However, the benefit of the Mirage Solo is that no wires are required. The entire headset is self-contained. Sadly, this means that the quality of games suffers somewhat. There aren't many premium titles, and to further dampen the experience, the controller only has 3DoF tracking. Although the content library for Mixed Reality is improving, it's still lacking compared to other platforms. That being said, the gaming and entertainment experience is better on the Acer headset. If you have the PC to run it, the device offers better value for money than the Lenovo one.
Acer Mixed Reality Headset for Entertainment
The Windows Mixed Reality platform uses the 'Cliff House' environment as the virtual hub for compatible headsets. It's quite a lot of fun to use; not only can you open software you have installed on your desktop here, but you can also access the Cortana voice control feature. As such, there is a wide variety of things you can use the headset for. It's quite easy to immerse yourself in this digital space and make it your own, changing the look and layout, whilst also opening various content windows around you. Watching movies on the virtual big screen is also enjoyable, and there are quite a few apps available that provide 360-degree video curation.
Acer Mixed Reality Headset for Gaming
Gaming is where the headset is probably most relevant to those interested in the device. At launch, there weren't many games available on the Mixed Reality platform. However, more recently the headset has been compatible with the SteamVR service, increasing the catalogue of games significantly. There are now over 2000 games that you can access on the headset. Performance wise, the headset is slightly below the Rift and the Vive. Although the resolution of the Acer device is higher, it used an LED rather than OLED screen, meaning the screen door effect is quite pronounced. With tracking issues with the controllers, it can sometimes be frustrating. However, on the whole, it performs well when playing games.
Acer Mixed Reality Headset Top Games
The addition of SteamVR support means that the games library has vastly opened up in recent months. There are therefore a number of top games available for the Acer Mixed Reality headset. Some of our favourites include:
Superhot VR
This games often makes it onto our 'top games' list, and for good reason. It's incredibly fun, immersive, and action-packed. The core concept of how time moves is interesting and innovative, and it plays well on this VR headset.
Climbey
Climbey is a fairly simple game about climbing. You have two virtual hands and a helmet, and you climb stuff. Despite this straightforward premise, it's a whole lot of fun to play.
Job Simulator
Despite the title, this game is way more fun than any job we've ever had. There's a variety of roles you can take on, but it's the visual style and tongue-in-cheek humour make this an enjoyable game.
Acer Mixed Reality Headset Review
The Acer headset is in a strange place in the market. It's not a mixed reality headset currently, it's a VR device. As such, it's really going up against headsets such as the Oculus Rift, PlayStation VR, and even the HTC Vive. All of those have had a chance to settle into the market, and are better for it. The Acer had a slow start, with a limited content catalogue available. However, SteamVR support has been a big boost. Despite this, there just isn't enough to distinguish it from the crowd. The construction quality is a little flimsy by comparison, and the tracking doesn't work as well as its competitors. Yes, it's easy to set up and doesn't require quite as high specs as other devices, but this isn't enough to make it better than the big hitters in the market.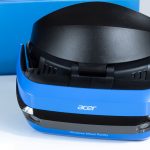 Acer Windows Mixed Reality Headset Review
WhatVR Summary
Overall, this mixed reality offering is more of a missed opportunity. Many of the ideas behind the device are sound, yet the flimsy plastic build seems to apply to both the physical model and its offering as an MR device. There currently isn't any reason to choose this headset above the Oculus Rift.
Pros
Incredibly easy to set up and start using.
High-resolution display looks sharp
Cons
Design looks good but feels cheap.
Controllers aren't particularly great.
Better options in same price range.
Acer Windows MR Headset Photos
Buy Acer Windows MR Headset