HTC Vive Review: One of the Best VR Experiences Available
The HTC Vive is no longer the most expensive VR set on the consumer market – that crown now belongs to its successor, the HTC Vive Pro. Now, HTC's original Vive is much closer to Oculus Rift in pricing and it still provides one of the best VR experiences available, at a much cheaper than when it first launched.
The bad news for HTC is that Oculus Rift is also cheaper now but how does the original Vive stack up against its Rift rival and Pro cousin in 2018?
In this review, we'll be covering all the key details you need to know about the HTC Vive, how it stacks up against the competition and helping you decide whether this is the VR set for you.
HTC Vive Pros and Cons
Pros:
Pretty much the best VR experience on the market
Fast, responsive hardware
Great content
Recent price drops compete directly with Oculus Rift
Cons:
Still more expensive than its rivals
Headset cord can get in the way
Straps are difficult to adjust while wearing the headset
HTC Vive Prices
One of the biggest drawbacks to HTC Vice is its price but these have fallen steadily since its release in 2016. At launch, the Vive came with an asking price of 799USD, 689GBP and 899EUR but prices have dropped steadily since then.
Now, you can expect to get your hands on the Vive for prices closer to:
$499
£499
€599
These price drops are partly thanks to the release of Vive Pro earlier this year, which offers a wide range of hardware upgrades, although the VR experience itself is almost identical. This makes the HTC Vive far more competitive against Oculus Rift while providing the better a slightly better VR experience and currently a better suite of content.
Price: 8/10
HTC Vive Features
The standout features of the HTC Vive are its powerful processor and its motion tracking technology. The Vive controllers and "lighthouse" sensors combine to create near flawless tracking across a 15 x 15ft area, which compares to the 5 x 5ft space you have to work with using Oculus Rift (although you can expand this to 8 x 8ft if you buy additional sensor cameras).
Another key feature of the HTC Vive is that it's powered by Steam VR, giving you access to more than 2,800 games and experiences. This, combined with the hardware offered by HTC, makes it difficult to find a better VR experience on the consumer market.
If you compare the Vive's spec sheet with Oculus Rift and PSVR, you'll see there isn't much between the headsets on paper – certainly not enough to justify the difference in price. However, putting on the Vive and jumping into its VR experience tells a completely different story – and we'll explain this in more detail during the "HTC Vive VR experience section" further down.
For now, here's a look at the HTC spec sheet for you to compare with other VR sets:
| | |
| --- | --- |
| Screen | Dual AMOLED 3.6'' diagonal |
| Resolution | 1080 x 1200 pixels per eye (2160 x 1200 pixels combined) |
| Refresh Rate | 90 Hz |
| Field of View | 110 degrees |
| Safety Features | Chaperone play area boundaries and front-facing camera |
| Sensors | SteamVR Tracking, G-sensor, gyroscope, proximity |
| Connections | HDMI, USB 2.0, stereo 3.5 mm headphone jack, Power, Bluetooth |
| Input | Integrated microphone |
| Eye Relief | Interpupillary distance and lens distance adjustment |
Controller Specifications
| | |
| --- | --- |
| Sensors | SteamVR Tracking |
| Input | Multifunction trackpad, Grip buttons, dual-stage trigger, System button, Menu button |
| Use per Charge | Approx. 6 hours |
| Connections | Micro-USB charging port |
Tracked Area Requirements:
Standing / seated: No min. space requirements
Room-scale: 2 m x 1.5 m room size, 5 m max. between base stations
To power all of this, you'll need a high-end PC and this could add to your total expenses if you need to upgrade or modify your computer system.
HTC recommends the following computer specs:
| | |
| --- | --- |
| Graphics | NVIDIA GeForce GTX 1060 or AMD Radeon RX 480, equivalent or better. |
| Processor | Intel Core i5-4590 or AMD FX 8350, equivalent or better |
| Memory | 4 GB RAM or more |
| Video Out | HDMI 1.4, DisplayPort 1.2 or newer |
| USB Ports | 1x USB 2.0 or better port |
| Operating System | Windows 7 SP1, Windows 8.1 or later, Windows 10 |
If you're in doubt, you can test your PC by visiting the official Vive website.
As for what's in the box, you'll find the Vive headset itself, two face cushions, one nose rest, two wireless controllers, two base stations, a link box and the necessary cables and chargers. You also get a free trial to VIVEPORT Subscription, which gives you access to the best content available with HTC Vive and a redeem code for some free content.
Features: 9/10
HTC Vive Design
Design is one of the few areas where HTC has compromised a little with the Vive. That's not to say this VR set is poorly designed, by any means, but there are a few niggles that can get in the way of the gaming experience occasionally. Above all, the device's cables trail out of the headset and while none of us actually tripped over them we all admitted to being conscious of the cables during gameplay.
Some of us also struggled a bit with the straps on the headset, which are quite fiddly to adjust when you're not wearing the device. If you need to adjust them during gameplay, you're probably going to need to take the headset off and this can take some trial and error until you find a comfortable fit.
Our team mostly agrees that the Vive is less comfortable than the Oculus Rift headset and it certainly feels heavier. This could be personal preference, though, and you'll soon forget about any differences once you've had time to get used to the Vive.
Visual design and build quality
In terms of visual design and build quality, the Vive headset has a much rounder look than the sleek, boxy designs of Oculus Rift and Samsung's Gear VR. The Vive is rounder and less streamlined than the Rift and you have to think HTC has more work to do with refining its headsets over future releases.
Thankfully, HTC hasn't made compromises when it comes to build-quality and the Vive always feels like a robust kit that you can use with confidence. By far the most impressive aspects of the Vive's design are its controllers and these are a wonderful example of ergonomics and hardware coming together. They combine touch-sensitive, circular pads under your thumbs with trigger buttons placed at your fingertips and a pair of grip buttons on sides, which developers can use to add a variety of additional controls to their games and experiences.
Design: 8/10
HTC Vive Experience
If you want to know what makes the HTC Vive such a wonderful piece of VR tech, it's all about the experience – and you really have to try it to see and feel it for yourself. If you've tried lower-end sets like Gear VR or Google VR, this is an entirely different level. The Vive is noticeably superior to more advanced products like PlayStation VR and it just about has the edge on Oculus Rift, even if there isn't much in it.
Much of this is thanks to the Vive's tracking technology which is impressively accurate. This is the first VR set we've tested that had no problems with tracking our movements or hand gestures throughout the entire session. Aside from being crucial to the immersive experience of the Vive, this means you don't end up feeling like you're about to vomit and pass out in front of a room full of developers.
This accuracy also allows you to dive into more complex experiences without getting a headache (quite literally). Combine this with the huge library of content available on the Vive and there's nothing that really matches HTC at the top end of the consumer VR market.
Experience: 10/10
HTC Vive Content
As mentioned earlier, HTC Vive is powered by Steam VR and there's also a wider range of content available via HTC's own Viveport, which makes this the most extensive library of VR content available right now.
Here's a look at some of the best titles and experiences you can expect to enjoy:
Superhot VR
Superhot VR is a fast-paced shooter puzzler that provides one of the slickest working examples of what the Vive's tracking tech is capable of.
Adr1ft
Adr1ft leaves you floating alone through space as remnants of your destroyed space station pass you by. Oh, and to make matters worse, your oxygen is running out, you have no memory and you're completely alone.
Fallout 4 VR
Fallout 4 VR brings the entire Fallout 4 experience to HTC Vive and this is a genuine headline title that comes to life with HTC's VR set.
Raw Data
If you're looking for some true VR action, Raw Data is one of the first titles you need to try.
Star Trek: Bridge Crew
Star Trek: Bridge Crew brings childhood dreams alive by putting you on board the USS Enterprise in a multiplayer team environment.
That gives you an idea of some of the best content available on the HTC Vive right now and there's a lot more to look forward to as the library of content continues to expand this year.
Content: 10/10
Should I buy the HTC Vive?
As things stand, the only VR set better than HTC Vive is the Vive Pro but you'll have to pay significantly more for the audio and visual upgrades that only do so much to improve the VR experience. The Vive Pro is an incredible piece of kit but the regular Vive gets you 90% of the Pro for two-thirds of the price and you still get all of the stuff that matters most.
This tells you how good HTC Vive is, more than two years after its initial release. Oculus Rift can't quite match it, PSVR never really competes and the likes of Samsung VR aren't anywhere near the kind of VR experience you can enjoy with the Vive.
Sure, there are a few design niggles – many of which HTC put right with the Vive Pro – and you need a high-end PC to power the Vive. But none of this is really going to stop you buying the HTC Vive if you want the best VR experience available right now and this is precisely who HTC is targeting with the Vive.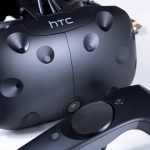 HTC Vive Review
WhatVR Summary
More than two years after its initial release, Oculus Rift can't quite match it, PSVR never really competes and the likes of Samsung VR aren't anywhere near the kind of VR experience you can enjoy with the Vive.
Pros
Pretty much the best VR experience on the market
Fast, responsive hardware
Great content
Recent price drops compete directly with Oculus Rift
Cons
Still more expensive than its rivals
Headset cord can get in the way
Straps are difficult to adjust while wearing the headset