It's been just over three years since the first VR, headsets launched. The Oculus Rift and HTC Vive changed our perceptions about virtual reality and all it could achieve. Although the devices were (and still are) amazing, there were a few niggling problems. They're a pain to set up, often require a lot of space and, until recently, meant you had to be tethered to your PC. In the years since, we've seen impressive offerings from the PlayStation VR, Oculus Go, and Windows Mixed Reality headsets. However, all of these have compromises and trade-offs. Lucky, then, that there's a new player on the scene, as we see in our Oculus Quest review.
Pros and Cons
Let's start with a quick look at some of the things we like and dislike about the headset:
Pros:
A truly wireless VR experience, without the need for any external equipment (except a smartphone and Wi-Fi).
Fantastic controllers that give full, 6DoF interaction.
A great selection of content that runs amazingly well on the headset.
Easy to set up and get started with.
Cons:
Relatively short battery life.
Controllers require AA batteries.
Occasional issues tracking the controllers.
As you can see, there's a lot that we absolutely love about the Oculus Quest. However, there are a few slight downsides that detracted from the overall score.
What is the Oculus Quest?
So, what exactly is the Oculus Quest? Simply put, it's the first standalone virtual reality headset that brings the VR experience to the masses. This alone is a pretty remarkable feat. Virtual reality has amazed us and other tech fans for a few years now. However, it's never really had the mainstream appeal. There are several reasons for this: it's expensive, requires expensive hardware, and has to be used in the designated space where it's set up. The Quest challenges all of these.
Although the Lenovo Mirage Solo and Oculus Go headsets are standalone devices, they don't have the six degrees of freedom that the Rift, Vive, and PlayStation VR have. The Solo and the Go are glorified mobile VR devices, on a similar level to the Samsung Gear VR. All are great for what they are, but they lack the immersion of the premium devices. The Quest delivers convenience and performance.
The Vive and the Rift deliver amazing visuals. They each have powerful graphics cards and processors powering them, allowing you to explore richly detailed virtual worlds. However, the various wires and sensors are a pain to set up and can often break the immersion. The Quest brings truly wireless virtual reality.
How Does the Oculus Quest Work?
The Oculus Quest is a self-contained device. Everything you need to start using the headset comes in the box, with the exception of your smartphone and Wi-Fi. Let's be honest though, there are few people who will buy a Quest who don't have either of those two. The headset uses a modified mobile processor to power it, meaning you don't have to connect it to a PC to play.
There are also some pretty neat features that make the device as unique as it is. For example, a series of four cameras on the front of the Quest create room-scale tracking, meaning you can define your play area and then explore it in virtual worlds. The cameras are also used to track the movement of the two controllers. So, unlike the Rift, Vive and PSVR, you don't need external sensors to create a room-scale experience. We saw a similar inside-out system on the Mirage Solo, but it didn't track the controller in 6DoF.
Aside from these innovative features, the headset works in a way that's similar to others on the market. Images are projected onto two screens, with one lens for each eye focusing on them. The controllers are used to interact with the virtual content.
Oculus Quest Key Specs
The Quest's technical specs are fairly impressive, although not mind-blowing at a glance. What amazes us most is how much the headset manages to get out of its hardware. We've outlined the main details below:
| | |
| --- | --- |
| Screen | Two diamond Pentile OLED displays with a, 2880 x 1600 resolution (1440 x 1600 per eye). It features a 100-degree field of view, slightly less than the very best headsets on the market. It has a refresh rate of 72Hz. |
| Connectivity | One USBC port. |
| Operating System | Oculus's bespoke platform for the Quest, featuring the Oculus Store. |
| CPU | Qualcomm Snapdragon 835 VR processor VR. This modified version of the Snapdragon 835 is designed specifically for virtual reality. The 835 was a 2017 mobile processor, and the VR version boasts improved visual fidelity and audio performance, as well as reduced latency. |
| Lens | Two Fresnel-Aspheric lenses create a 100-degree field of view. |
| RAM | 4 GB, more than is found in the Oculus Go. |
| Internal Storage | There are two options available, a 64 GB and a 128 GB one. |
| Network Features | Wi-Fi 802.11 ac/n 2×2 MIMO Dual Band, Bluetooth 5.0 and BLE. |
| Camera | Four 6-Degrees-of-Freedom Tracking Cameras |
| Size | 8.7 x 7.6 x 4.1 inches |
| Weight | 571g or 1.25 lbs (Rift is 470g) |
| Battery | Li-ion Polymer 4000 mAh, up to 2.5 hours general use. |
| Price | £399/$399 for 64GB, £499/$499 for 128GB |
Oculus Quest Key Features
There are certainly some standout aspects of this VR headset. Many of these are elements we've seen from other devices, but it's the fact they're all housed in one self-contained unit that's so impressive. Here's our pick of the top ones:
Wireless VR. No complicated setup, no immersion-breaking wires.
Oculus Insight Tracking. The four, front-facing cameras give room-scale tracking. You can set your own play boundary, and the guardian system prevents you from straying outside the play area.
Built-in audio. The headset has speakers embedded in the headband, delivering impressive and immersive audio.
6DoF controllers. The Oculus Touch controllers perform brilliantly (for the most part) and can track your hand movements with incredible accuracy.
Oculus Quest Requirements
Usually, we have to write extensively about the various PC tech requirements to use a VR headset. Not so with the Quest. All you need to get started with the device is a smartphone, a wireless internet connection, and the Oculus app.
You'll also need to have a space that exceeds 3 feet by 3 feet (1 meter by 1 meter). As noted on the Oculus website, some games work best with a minimum play area of 7 feet by 5 feet (2 meters by 1.5 meters). Finally, you'll need two AA batteries for the controllers, although these are included in the box.
Oculus Quest Ratings
Now that we know all there is to know about this fantastic VR device, it's time to get down to the scores. As usual, we've looked at all the key areas and judged them based on the other headsets available.
Design
It appears Oculus have learned a lot over the last few years when it comes to headset design. Although it' not the most visually appealing device out there (it looks pretty much like a standard piece of VR hardware), it's an improvement over the Rift and Vive. Where the design excels is in its comfort and practicality. The device fits comfortably, even for longer periods of use. The soft fabric of the faceguard feels of a high quality, and the adjustable straps mean that it sits securely on the head.
The addition of a glasses spacer is a welcome one, as is the adjustable lens mechanism. All of these features mean that you can pass the headset around with minimal fuss. Each person we tried it with easily and intuitively managed to get a comfortable fit and start playing. Overall, it's not the most beautiful device we've seen, but it is among the most practical.
Design: 8/10
Hardware
There's a lot to like when it comes to the hardware of the Quest. Every inch of the headset and controllers makes it feel like a premium product. The built-in speakers on the headband deliver excellent audio (although everyone in the vicinity can also hear what you're playing), and the high-quality OLED screen gives a crisp and detailed experience throughout.
One of the high points of the Quest experience is the controllers. The modified Oculus Touch handsets are again some of the best we've ever seen. They fit comfortably in the hand, give excellent haptic feedback, and have wonderful ergonomics. Overall, the tracking of the controllers is very good. However, on a few occasions, we'd get an error message saying one could not be found. Another time, the tracking got 'stuck' showing the controller in an incorrect location. Taking the battery out seemed to fix these issues, though they were slightly annoying.
Hardware: 9/10
Price
The price point of the Quest is a slightly odd one. It's priced similarly to what the Rift is now (£399/$399 for the 64 GB version). Now, the Rift has better performance when it comes to VR games, as well as a wider selection. However, this is because it's driven by a powerful gaming PC, which costs a significant amount. Similarly, you can pick up a PSVR starter pack for around £200/$250 these days, but need to spend around the same amount on a console to play it on.
Overall, the Quest represents good value for money. It has literally everything you need to get started and provides the absolute best standalone VR experience currently available. It's essentially the cost of a new games console, yet it has the performance to back up that price tag. The Quest is bringing virtual reality to the mainstream.
Price: 8/10
Performance
Given that the Quest only has a modified mobile processor and 4GB of RAM to power it, we were intrigued to see how it would perform. Happily, we've been delighted with everything we've thrown at the headset so far. It's a quick and responsive device that's quick to load apps, rarely leaving us sat staring blankly into space. The visuals are truly remarkable given the hardware – it can run games and experiences that are available on the Rift and Vive. There is a slight downgrade in visual quality on some apps, but the framerate never seems to drop.
The battery lasts around two and a half hours, slightly longer if you're only watching video content. We're fine with this, as it's rare we'd spend longer than that in VR anyway. It takes around two hours to fully recharge.
As for the controllers, they perform exactly how we'd want them to, except on the few occasions when they froze/didn't respond. They make each VR experience immersive and engaging.
Performance: 9/10
Content
One of the aspects that sadly let down another standalone headset we reviewed, the Lenovo Mirage Solo, was the lack of content at launch. Thankfully, the Oculus Quest has a strong catalogue of games available already. Many of the launch titles are ones we've seen on other major VR devices. The Quest store has around 50 apps available, with some big hitters such as Beat Saber, Superhot VR, and Moss being ported to the headset. There are a few exclusive titles to be excited about too. The Stars Wars game Vader Immortal has many fans excited.
If you're into media streaming, there are some notable apps already available. Netflix and YouTube VR are two of the biggest names, although SkyBox VR is useful if you have your own content to stream. We had a slight issue getting Netflix to login to our account, although this was solved when we switched from a Wi-Fi to a 4G connection briefly.
Content: 9/10
How it Compares
So, that's an impressive range of scores for the Oculus Quest. There's a lot to like about this headset, but how does it compare to some of the other options available?
Oculus Quest vs Lenovo Mirage Solo
These are perhaps the two headsets that are closest together in terms of price and ambition. The Mirage Solo was fractionally cheaper at launch, but it only has one controller that doesn't give 6DoF hand tracking. The Quest has a much stronger line-up of apps, making it feel like there is a lot of content to be explored. Sadly, this is another area where the Solo doesn't compare. It felt like there was a lot of unmet potential with the headset, whereas as the Quest seems to exceed expectations.
Overall, it's a no-contest between these two. For a slightly higher price, you get a lot more from the Quest.
Oculus Quest vs Oculus Go
Both of these headsets had a similar mission statement – make virtual reality more accessible to the average user. And, so far, both have seemingly fulfilled that goal, just in different ways. The Go is a really great headset for the price. Those looking to see what VR is all about get a good taster without having a huge outlay. Although the Quest is more expensive, it far expands on the features of the Go. Room-scale tracking and 6DoF experiences make it feel like a premium virtual reality headset. Both are very well designed – we prefer the look of the Go, but the Quest's controllers are next-level good.
Overall, if you can afford the extra outlay for the Quest, you'll get a true understanding of the potential for this medium of entertainment. If not, the Go offers a good compromise of price and quality.
Oculus Quest vs Oculus Rift
The Rift, along with the HTC Vive, set the benchmark for virtual reality headsets. Over the years, they've received improvements, as well as upgrades such as the Rift S and Vive Pro. Despite their prominence, they have one flaw – you need a fully-fledged gaming PC to run them. The average consumer doesn't have one of these, and few are willing to fork out the £700/$750 required to buy one. The Quest doesn't need that huge expense, and costs around the same price as the two frontrunners in terms of performance.
There are some drawbacks that come with the mobile processor of the Quest, however. The more immersive and expansive VR experiences are off limits, at least for now. That being said, Oculus has done remarkably well to port some of the most popular games over to their new device. Games such as Beat Saber and Superhot VR run fantastically well on the Quest. There's a small sacrifice in terms of quality, but for the freedom it brings and the cost, you can't go wrong.
Oculus Quest vs PlayStation VR
As the only console-based virtual reality experience, the PSVR has its own unique market segment cornered. Although not as powerful as the Rift or Vive, and with a screen that's not quite as good, PlayStation's headset is still a fantastic product. The sheer number of games available means there's so much premium content to play. And, there are often sales on a variety of titles.
In terms of performance, we're always a little disappointed with the PSVR's tracking. It can be frustrating to get started with and isn't as accurate as we'd like. Contrast this with the ease of setup and accuracy of the Quest, and we know which we'd rather pick up and play. Although either is suitable for newcomers to virtual reality, the Quest edges it if you don't already have a PlayStation console.
The Best Games on the Oculus Quest 300
There are plenty of exciting titles that launched with the Quest. We're eagerly playing our way through as many as possible. We've picked out our favourites below:
Vader Immortal Episode 1
The Star Wars franchise and virtual reality are a match made in heaven. Just about every fan of the series has, at some point or another, pretended to wield a lightsabre. Well, now you can, with more immersion than ever before. Developer ILMxLAB have done an excellent job of pleasing fans of the saga and making a VR game that lives long in the memory. Although the main story of this first episode is only around 45 minutes, the dojo adds a few hours' worth of extra fun. It's painstakingly crafted, has a unique and interesting story, and creates some wonderful moments. An instant hit.
Superhot VR
Another VR headset, another port of Superhot VR. This game is one of our favourites to play in VR, and the Quest does a remarkable job of running the game. Combat feels as smooth and satisfying as ever, and the visuals, although simple, still measure up to that seen on the premium headsets. With the room-scale tracking, you can move, duck, roll, and fight your way through a wide variety of levels and scenarios. There are few games that bring you as close to feeling like you're in the Matrix as Superhot.
Beat Saber
We're not that the WhatVR team will ever tire of playing Beat Saber. It's just so satisfying. Again, the Quest handles the game excellently, with only a slight drop in visual fidelity. The game is the ideal introduction to virtual reality, giving engaging gameplay, a good learning curve, and almost endless playability.
Oculus Quest Verdict
So, that wraps up our in-depth look at the Oculus Quest virtual reality headset. Overall, we're delighted with this device and think it's a true game-changer for the medium. When we imagined VR as kids, this is exactly the kind of thing we dreamed of.
It's just so effortless to get started with the Quest. Once you've completed the app setup, everything feels straightforward and intuitive, even to the non-gamers/technophobes we gave it to. It's perhaps the most polished VR experience we've had to date. There are no wires to worry about, and no expensive additional hardware needed. Just strap it on and dive in.
Although the Quest isn't as powerful or visually impressive as the Rift or Vive, it makes up for it in terms of convenience and quality. It's set a new benchmark for virtual reality gaming and is hopefully a taste of what's to come.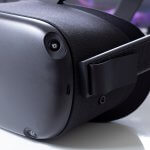 Oculus Quest Review
WhatVR Summary
Although the Quest isn't as powerful or visually impressive as the Rift or Vive, it makes up for it in terms of convenience and quality. It's set a new benchmark for virtual reality gaming and is hopefully a taste of what's to come.
Pros
Truly wireless VR experience, without the need for any external equipment.
Fantastic controllers that give full, 6DoF interaction.
A great selection of content that runs amazingly well on the headset.
Easy to set up.
Cons
Relatively short battery life.
Controllers require AA batteries.
Occasional issues tracking the controllers.